My dismal work situation has been the topic of several posts lately, including this one where I felt extremely disrespected at work & almost quit on the spot. Since that incident in December, it seems like folks have been at least attempting to stay on my good side & be more respectful. A few weeks ago, I got an email saying that I received an award, similar to a bonus, as a thank you for all the extra work I had done for a big project. #Yay, finally some recognition of the work that I've been doing for folks. Instead of just giving cash, my company allows you to choose a giftcard from one of hundreds of stores for your award. I decided to get a Barnes & Noble giftcard, and I used it towards this: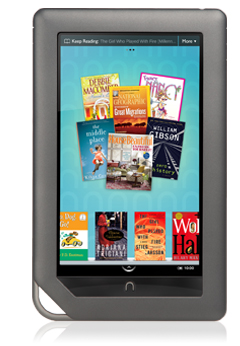 That's right - I got a NOOKcolor!
Months ago I made a list of Five Gadgets on my Wish List, and a E-reader was on the top of the list. I got a chance to play with my friend's NOOKcolor while I was in Atlanta & I really liked it. When the opportunity presented itself to get one, I jumped at it #yay.
Incidently, I also got a new Blackberry Bold a few weeks ago, so I can scratch two items off that list.
Are any of you NOOK users? What tips do I need to know? Any good sites for books? Let me know!